LPS Series
Heatless Dryers – LPS Series
Simple Heatless Dryer Design
Reliable Solid State Timer
Integral support screens and air diffusers
Easy to read control panel
Pre and after filter kit
Moisture indicator kit
Power: Choice of 120/110 VAC 1ph 60/50 Hz, 240/220
Enclosure: NEMA 1, IP 23 standard; others available.
Minimum working pressure: 50 psig (3.4 bar).
Contact factory for lower pressures.
Maximum working pressure: 150 psig (10.3 bar).
Pressure drop: under 3 psi (0.21 bar).
Maximum inlet air or ambient temperature: 120°F (49°C).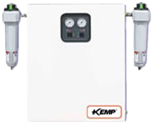 Contact Us
15019 N.Brentwood Channelview, TX 77530
map it