Multimedia Filters
Since 1959, Miami Filter has been a worldwide leader in the production of filtration and water treatment systems.
The company's total in-house control of all the processes; involving engineering design, fabrication, production, quality control and customer support permits Miami Filter to produce a wide range of system designs and sizes to fit a variety of customer needs. All phases of fabrication are performed in Miami Filter's 105,000 square foot facility in Fort Pierce, Florida.
Thousands of Miami Filter's systems are operating successfully all across America and throughout other nations worldwide.
Miami Filter's multimedia filtration systems include pre-engineered and hydraulically balanced internal piping for control of system velocity. Miami Filter also pre assembles and installs all filter internal piping and components for our customers. This permits Miami Filter to provide an extended warranty on all internal piping for the life of you filter tank.
Standard accessories supplied with Miami Filter's systems include influent/effluent gauge panel, automatic air bleeder, backwash sight glass, control valves and face-piping.
Miami Filter will design your filter system to be durable, reliable and user friendly, providing satisfaction for years to come.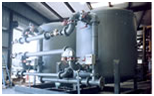 Contact Us
15019 N.Brentwood Channelview, TX 77530
map it